PHIL G BAND
AUDIO
MOVIES
CONTACT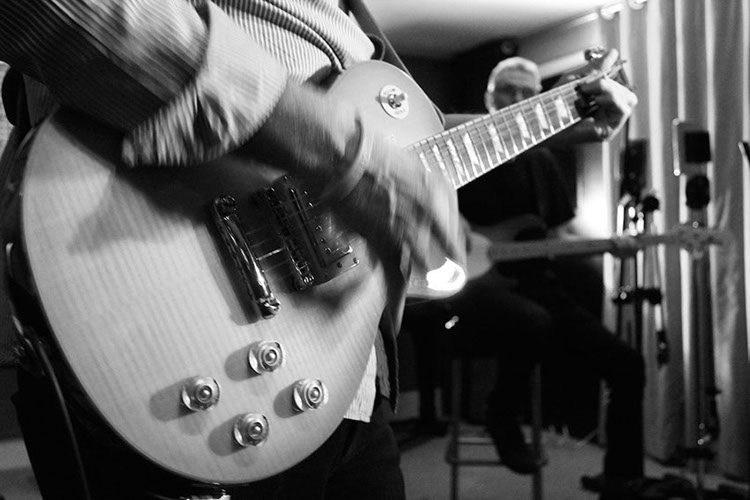 To get in touch, email us at info@philgband.com or check us out on facebook, soundcloud and twitter!
BIOG
Eureka! It's the PHIL G BAND @ Rockfield studios!
Topic: recording of the first album "Eureka"
British singer songwriter Phil Gibbons, who has been working as a tutor in Saudi Arabia for the past five years had previously been with the military forces for over 25 years. Phil's songwriting began during this "time apart from normal society" and he admits that his writing reflects the perceptions he has built up during that period.
Ever since Phil's been in the middle east he's spent the best part of his spare time creating new songs on his acoustic guitar that reflects his emotions and feelings of being "distanced" and "apart" from British society and he has now built up a repertoire of material of over twenty songs. Phil wanted to perform the songs on stage and that idea soon caught the attention of fellow tutor and talented Italian guitarist Marco Degiorgi, who was also based in the same Saudi location as Phil.
Marco, born in Milan, who had been initially influenced by the works of Dylan, Guthrie, Pete Seeger and Joni Mitchell and later by the rock dimensions of Springsteen, Mellencamp and Jackson Browne had also experienced the same emotions as Phil and after what Marco describes as a "fortuitous encounter" by meeting Phil, they quickly combined forces and created an even greater catalogue of new material which they soon performed on many gigs in Saudi Arabia where they tried to develop their own sound and test out the new material on their ever expanding audience.
The folks, many of whom were "expats" took to the sounds that the boys had created and later, following some early home-made demo recordings, Phil and Marco felt they might have some calls to seek out a professional opinion.
The boys then took the suggestion made by Phil's wife Gail, to send the demos that they had made to freelance music producer Matt Butler, who was based in Hereford. Matt had a vast experience of working with the cream of the music business including Paul McCartney, Phil Collins and Mick Jagger, but this high calibre of client led to some debts being expressed by Phil and Marco on whether or not Matt would see any merit in their material.
Not surprisingly, as others have since commented, the material was well received by Matt, who subsequently arranged recording sessions at the legendury Rockfield Studios in Monmouth.
Matt immediately called in the talents of the superb session drummer Tom Hooper.
Tom had appeared with such artists as Grace Jones, Christian Garrick and has since recorded with Dutch singer Jan Smit as well as having the drum seat for the rapidly rising George Montague. A very busy boy indeed but Tom made sure he was available for the forthcoming recordings at Rockfield.
The boys still needed a competent bass guitarist who could quickly learn the new material and create some interesting baselines. So it was that Phil took the decision to invite in someone whom he knew had long ago quit the music business and who had not performed as a professional bassist for some 40 years since playing at the original Liverpool "Cavern Club" in the early 1970s. The "Gov", as he's now become known, was a little reluctant to take up the offer, but after listening to the potential of the songs within the demos became fully committed to the project and was encouraged to brandish his bass guitar once again.
The boys met at Rockfield studios in April 2011 and personified an eclectic mix of personalities and styles that Matt Butler recalled: "at first they barely had any guitar in tune with one another". However within the subsequent recording sessions the band, now known as the Phil G Band, quickly developed into a tighter musical unit which worked well together to create the tracks for the new album entitled "Eureka"
The Phil G Band released the album in May 2013.